Coronavirus: Food banks forced to close amid Covid-19 outbreak
Campaigners warn closures will push low-income families further into grip of poverty and social exclusion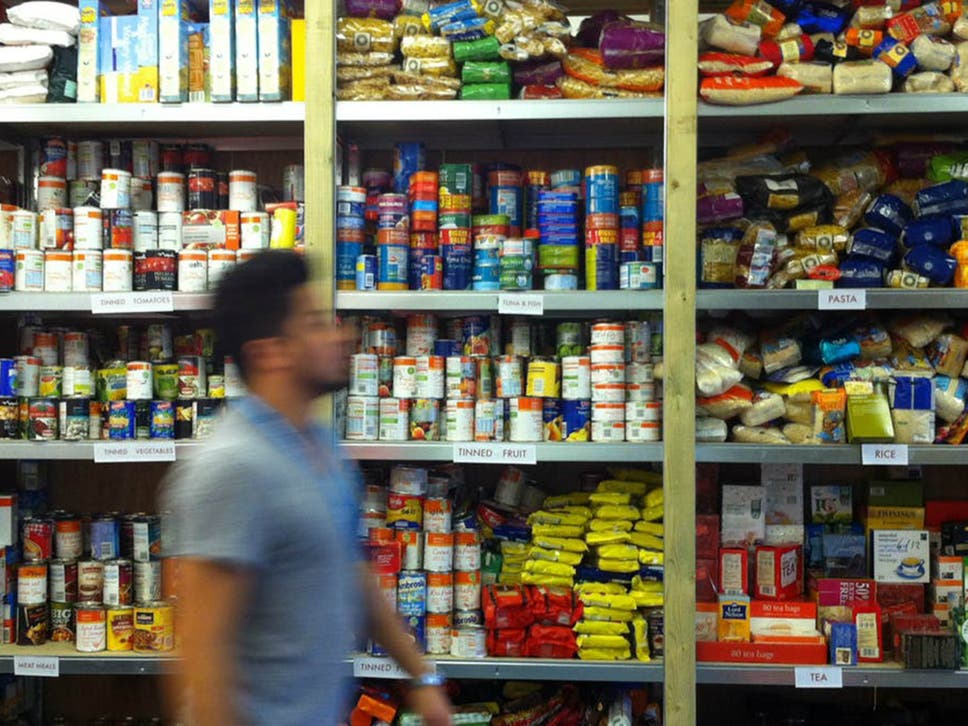 Food banks across the UK are being forced to close or reduce the service they offer as the coronavirus outbreak leads to a decline in volunteers and a shortage in food donations.
Campaigners said people on low-incomes could be pushed further into the grip of poverty and social exclusion due to a decline in the voluntary services.
Islington foodbank, which provides food to people in one of the country's most deprived boroughs, announced on Monday that it would be closing in seven days' time in response to a growing number of volunteers self-isolating and a decline in donations – as well as concerns over risk of infection.
In a statement, the foodbank said the decision to close had been "difficult", adding: "We understand that we provide a service to vulnerable people who may need us now more than ever, but still feel this is the best way to keep our volunteers and clients safe and minimise the risk of infection.
"In addition, we need a minimum number of volunteers at each session to operate but with increasing numbers self-isolating we cannot guarantee that. And finally, our food supplied are running low with donations down and supermarkets limiting how much we can order.
"We will monitor the situation closely as it unfolds and will re-open as soon as we feel it is safe to do so."
Other organisations running foodbanks across the country told The Independent they too were being forced to consider closure or reduce the service the offer due to difficulties obtaining adequate food supplies and volunteer shortages.
Nick Waterfield, who runs a foodbank in northeast Sheffield, said the charity was in a "state of uncertainty and flux" and that it had already decided to close what he calls its social café, where clients could go to have tea and discuss their problems with volunteers.
"Getting the stock in is one problem, but the social cafe is about social networking, support, but we've had to lose that. We couldn't run the risk of doing food in the same way anymore, and having people together in one space," said Mr Waterfield.
"I'm worried that social distancing will lead to a greater element of social exclusion. There is a risk that that is what will happen. Our more pastoral support is going to be diminished, and for many that was just as important as the food, if not more important."
Paul O'Brian, who runs the Micah foodbank in Liverpool, said there was a "very realistic prospect" that they would be forced to close the service in the coming weeks, but that they were doing all they could to keep it open.
"Our volunteer base is mainly retired people who have got the time and the wherewithal to spend their time with us. Those people are nine times out of ten over the age of 65 and 70, sometimes in their eighties," he said.
"Sadly we're being forced by this situation to ask many of our volunteers not to attend for their own safety. Last week we were okay, we got through, but this week we are seeing the majority of our volunteer base to not come in."
Mr O'Brian continued: "I don't want to scaremonger, but we're not burying our head in the sand. We know that closure is the very last resort, but it just depends on how much of an effect this virus can have. That is the last thing we want to happen, but if by opening the foodbank we put the people using it at risk of getting coronavirus then we won't do it.
"I'm expecting for a myriad of reasons – whether it be self-employed people unable to access work, or lack of provision for school dinners – that our numbers are going to rise, which makes it all the more concerning."
Sabine Goodwin, coordinator of the Independent Food Aid Network (IFAN), called on the government to "urgently" provide the financial means to those on low or no income to buy food and support themselves during this crisis and beyond.
She added: "Dedicated volunteers have been depended on to provide emergency food parcels to those in need for too long. The spread of coronavirus means there's a possibility that we may now no longer be able to count on their good will and generosity to keep food banks open."
Varun Kanish, campaigns manager at Turn2us, said that, should foodbanks have to close down on mass, the charity would be "very worried about even more people going hungry across the UK".
"Foodbanks are already the last resort for an increasing number of people in UK experiencing desperate financial hardship. This latest health crisis is pushing the most at risk and vulnerable further into the grip of poverty," he said.
"Given the latest measures put in place to stop the spread of the virus, we would expect the government also has contingency plans that support critical resources like foodbanks and shelters."
It comes as charities call on the government to increase welfare benefit payments to support low-income families in the face of coronavirus. Child Poverty Action Group said ministers should bring in a £10 per week uplift in child benefit for the duration of the pandemic.
Chief executive of the charity Alison Garnham said: "We are in very uncertain times and the impact of the Covid-19 coronavirus will place additional financial pressures on families who are already struggling to get by.
"The policy solution should not be to turn to the voluntary sector to boost food distribution projects, or to create new ones. As well as the loss of their dignity, families being forced into food banks are likely to increase the risk of infection from covid-19 and further its transmission in already vulnerable communities."
A spokeperson from the Department for Work and Pensions said: "We understand people who are required to stay at home or are infected by Coronavirus may need financial support, and quickly.
"Those affected will be able to apply for Universal Credit and can receive up to a month's advance up front without physically attending a jobcentre.
"If you believe that you may have been infected, or have been in close contact with someone who has, please do not delay making a claim to Universal Credit. You should stay at home and apply at the earliest opportunity."
(Source: The Independent)